Butler Snow attorney Tray Hairston recently presented to staff at the International Economic Development Council (IEDC) headquarters in Washington D.C. As part of IEDC's Brown Bag Lunch Series, Hairston gave a presentation entitled "Economic Development from a Lawyer's Perspective" and provided insight into various financing functions like New Market Tax Credits, Opportunity Zones, Low-Income Housing Tax Credits, General Obligation Bonds, Tax Increment Financing and more, as well as examples of specific projects that utilized those types of financing tools.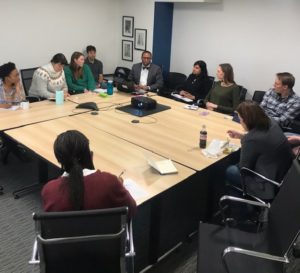 Additionally, Hairston explained how attorneys can play a critical role in many steps of the economic development process, including:
Site selection assistance in frequent collaboration with site location firms including Butler Snow subsidiary VisionFirst Advisors
Negotiation and documentation of large and small incentive packages through drafting the memorandum of understanding between related parties, including:

Provision and preparation of the project site documentation
Generally serving as bond counsel to governmental entities where the project is locating
State and local tax incentives and tax planning to abate or minimize property, income, sales and use, contractor's and franchise taxes, if applicable
Assisting with the preparation or documentation of loans, grants and other inducements for economic development projects
Assistance with income tax credits, such as industrial revenue bond debt amortization credits and new jobs credits and rebates
Assistance with work-force and training incentive services
Assistance with transportation and utility infrastructure documentation

Assistance with project financing
Assistance with tax incentive financing, including industrial revenue bond financing (taxable and tax-exempt) and new markets tax credits and energy tax credits financing
Assistance with environmental permitting and other regulatory and administrative issues
Assistance with utility services documentation
Labor and employment assistance
Hairston is a member of Butler Snow's public finance, tax incentives and credit markets group. He concentrates his practice on public finance and economic development matters, including all types of municipal bond issues, serving as bond counsel for both taxable and tax-exempt financings. He has served as bond counsel for various cities and counties and has worked on over $100M+ in transactions. He is former counsel and economic development policy advisor to Mississippi Gov. Phil Bryant, and prior to beginning his legal career, Hairston was a member of the Global Business Division at the Mississippi Development Authority where he provided project management assistance to companies & consultants looking to locate new businesses in Mississippi. He has served as an adjunct law professor at Mississippi College School of Law and regularly publishes scholarly legal articles including The Future of Economic Development, 35 Miss. C.L. Rev. 370 (2017). Hairston has also served as a lecturer at the Trent Lott National Center for Excellence in Economic Development and Entrepreneurship at The University of Southern Mississippi in the school's Masters of Economic Development Program.
Hairston is recognized by The Bond Buyer as a Rising Star. The publication's Rising Stars program honors 28 municipal finance professionals under the age of 40 throughout the country whose leadership, collaborative spirit and innovative work with issuers has positively impacted their communities. Rising Stars are nominated by their peers and submissions are judged by a panel of municipal finance leaders throughout the country and The Bond Buyer's editorial leadership team. The Bond Buyer is a century-old daily national trade newspaper based in New York focused on covering the national and international municipal bond industry.
Hairston is a member of the National Association of Bond Lawyers, International Economic Development Council, Southern Economic Development Council, Mississippi Economic Development Council and Mississippi Bar Association. He received his undergraduate degree from Tougaloo College, his MBA from Belhaven College and his Juris Doctor from Mississippi College School of Law.