Let's Get Down to Business (Court): A Primer on Texas' newest Trial Court
June 6, 2023 | by Victoria Giese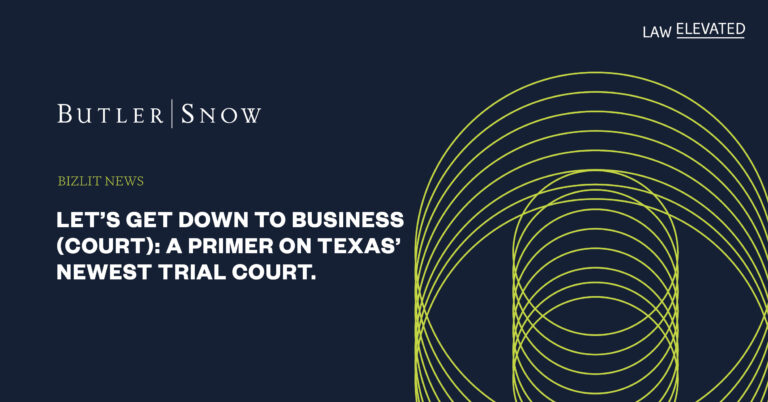 Let's Get Down to Business (Court): A Primer on Texas' newest Trial Court
June 6, 2023
By Victoria Giese
Although wading through the salient headlines from the 2023 Texas state legislative session has felt like an endless feat, Texas businesses (and litigators) should take some time to acquaint themselves with H.B. 19, which creates a brand new system of specialized trial courts around the state to hear certain business disputes. Here are the most important things to know about the new court now that Governor Abbott has signed the bill into law.
Business court judges will be appointed rather than elected and must meet rigorous standards.
The new business court, composed of eleven divisions operating throughout the state of Texas, will be presided over by Governor-appointed and Senate-confirmed judges. Business court judges must meet stricter requirements than other Texas district court judges. To qualify, a business judge must:
Be at least 35 years old; and

Have ten or more years of experience as a licensed Texas attorney practicing

complex civil business litigation; 

business transaction law; 

serving as judge of a Texas court with civil jurisdiction; or 

any combination of experience described by Paragraphs (A)-(C).
The business court will share jurisdiction with district courts over particular types of business disputes.
The business court will have jurisdiction over the following:
The following types of actions where the amount in controversy exceeds $5 million or where a party is a publicly traded company:

Derivative actions;

Regarding a business' governance, governing documents, or internal affairs;

Arising under state and federal securities law or trade regulations;

Alleging an act or omission by an owner or manager of an organization;

Alleging a breach of an owner or manager's duty owed to an organization;

Seeking to hold an owner or manager liable for an organization's obligation; and

Arising under the Texas Business and Commerce Code;

The following types of actions where the amount in controversy exceeds $10 million:

Arising out of a qualified transaction (where one party gave consideration exceeding $10 million or more);

Where the parties to a contract or commercial transaction agree to the business court's jurisdiction; and

Arising out of a violation of the Texas Finance Code or the Texas Business and Commerce Code; 

Injunctive or declaratory relief involving a dispute based on any of the above claims; and

Any other claim related to a case or controversy within the court's jurisdiction that forms part of the same case or controversy if all parties and the business court judge agree that the claim should proceed in the business court.
Notably, the business and district courts will share concurrent jurisdiction over the above categories of cases.  This means that litigants may file a qualifying case directly in the business court or remove an action from a district or county court to the business court in a county of proper venue.
The new Fifteenth Court of Appeals will hear all business court appeals.
The business court is not the only new Texas court about to hit the books.  Under S.B. 1045, the legislature created the Fifteenth Court of Appeals—a new intermediate court with exclusive jurisdiction over all appeals taken from the business court.  The Fifteenth Court of Appeals will be located in Austin and will also have jurisdiction over non-business court appeals, including those taken from proceedings brought against governmental entities.
The business court system will start operating in 2024.
Once the Governor signs, H.B. 19 will take effect on September 1, 2023. However, the law will only apply to civil suits filed on or after September 1, 2024.
Bottom line
With proponents and critics throughout the political spectrum sharing their enthusiasm and concerns about this legislation and its many unknowns, one thing is certain: the new business court will profoundly change the commercial litigation landscape in Texas.  Businesses with questions about navigating the new business courts should contact an experienced litigation attorney for further consultation.