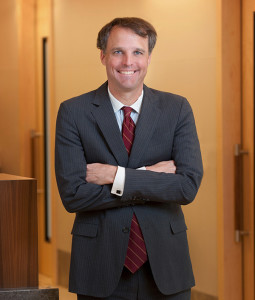 Butler Snow's David H. Williams, Jr. was recently covered in the citybizlist article Lenbrook Names David Williams Jr. Chairman of Board about his recent election of Board Chairman to Lenbrook, Atlanta's first and only nationally accredited life plan community:
Lenbrook, Atlanta's first and only nationally accredited life plan community, has named David H. Williams Jr. of Butler Snow to the position of Board Chairman. In addition, Lenbrook welcomes two new members to its Board, Caroline Duffy of Jackson Spalding and Karen Renner of Thales.

A member of Lenbrook's Board since 2013, David Williams Jr. brings to the Chairmanship over 15 years of experience as bond and underwriter's counsel on financings for senior housing, healthcare facilities and universities throughout the country. He is an attorney with the Atlanta law office of Butler Snow and was twice named a Georgia Rising Star Super Lawyer in the practice areas of Bonds and Governmental Finance (2005 and 2009).

Williams is a University of Georgia graduate with a bachelor's degree in political science. He earned his doctorate in law from Mercer University School of Law, and is a member of the State Bar of Georgia, National Association of Bond Lawyers and the American Bar Association.

"David knows our community and understands our culture of service to our residents. We're honored to have him as Chairman of the Board and we appreciate his experience with bond financings for not-for-profit life plan communities such as Lenbrook," said Chris Keysor, President and Chief Executive Officer of Lenbrook.

New Lenbrook Board Member Caroline Duffy is a founding partner of Atlanta's largest public relations agency, Jackson Spalding, and has more than 30 years of strategic marketing and public relations experience. She has served as a senior advisor for some of the agency's largest clients, including Primrose Schools, Delta Air Lines, Publix Super Markets and Children's Healthcare of Atlanta. Duffy also leads staff mentoring and culture development at Jackson Spalding and an international crisis communications consortium.

Duffy earned PR's highest honor — the Public Relations Society of America's Silver Anvil — for her work with The Atlanta Dream Team that supported Atlanta's bid for the 1996 Olympic Games. Early career stops included the Cobb Chamber of Commerce and Manning Selvage and Lee in Atlanta.

An Auburn University journalism graduate and Leadership Buckhead alumna, Duffy has also served on the boards of St. Martin's Episcopal School, Sophia Academy, and Theatrical Outfit, where she is still active in an advisory capacity.

Also joining Lenbrook's Board is Karen Renner, North American Chief Information Officer for Thales, a global technology leader for the aerospace, transport, defense and security markets. She has more 25 years' experience in leading teams and deploying information technology.

Prior to Thales, Renner served as Vice President and Chief Information Officer for Atlanta-based Novelis, a global leader in rolled aluminum products. The Atlanta Business Chronicle named Renner among the Top 100 Technology Leaders in Atlanta in 2015 and the Georgia CIO Leadership Association named her Georgia's Chief Information Officer of the Year in 2013.

Renner holds bachelor's and master's degrees in industrial engineering from Auburn University and a master's degree in business administration from Georgia State University. She began her career as an industrial engineer with Lockheed Aeronautical Systems in Marietta and then worked for General Electric Company in information technology for 18 years.

"We're delighted to have Caroline and Karen join our Board. Brand communications and information technology are key drivers in our field today as the adoption of online technology and digital communications continues to escalate and particularly among adults age 65 and older," said Keysor.

Lenbrook (http://www.lenbrook-atlanta.org) is the first and only life plan community in Atlanta to achieve national accreditation byCARF. Lenbrook's health care center is rated five stars by Medicare and also by U.S. News & World Report in its 2016/17 Best Nursing Homes Report. Lenbrook also holds an investment grade rating of BBB by Fitch. The community enables its residents to enjoy the gifts of independence, good health and personal fulfillment through engaging programs and services. Visit www.lenbrook-atlanta.org. Call 404-233-3000.
To read the citybizlist article about David H. Williams, Jr. in its entirety, please visit the link below:
http://citybizlist.com/article/433776/lenbrook-names-david-williams-jr-chairman-of-board