Butler Snow attorney, Tray Hairston, was selected to be a panel speaker for the inaugural Spirits on the Rise Summit, which took place on April 17 and 18th. The two-day event, hosted by Uncle Nearest Premium Whiskey and Jack Daniel's Tennessee Whiskey, was a joint initiative aimed at diversifying current and future leaders in the spirits industry. Additionally, the event seeks to bring together people from the BIPOC community who aspire to become head distillers, heads of maturation, and production managers. The Spirits on The Rise Summit pledged to provide mentorship to BIPOC entrepreneurs while advancing STEM and distilling focused skills.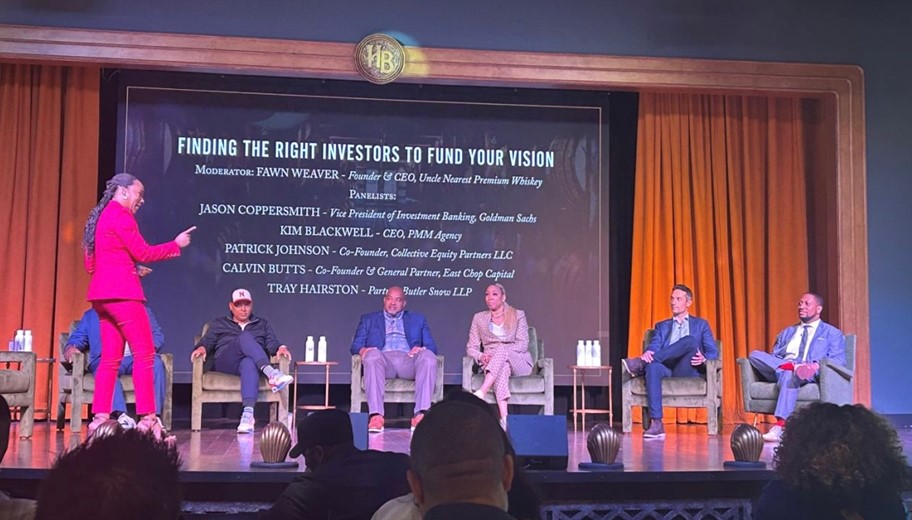 Uncle Nearest hosted 200+ BIPOC founders in spirits at Nearest Green Distillery, and gave them the tools and understanding needed to take their businesses to the next level. Attendees had access to 40+ investors and were given the opportunity to meet with and showcase their brands to national accounts and to the CEOs, Vice chairs and presidents of banks like JP Morgan Chase, Truist Bank, Farm Credit, CapStar and Goldman Sachs. In addition, the presidents of distribution companies were there and gave their advice. Despite debuting only six years ago, Uncle Nearest has garnered an impressive following, earning the title of fastest-growing American whiskey brand ever. Since its first release in 2017, Uncle Nearest has experienced over 3,000 percent growth in sales, with a growth rate of approximately 700 percent in 2022 alone.
Tray Hairston presented on the panel, "Finding the Right Investors to Fund Your Vision," which consisted of several experts sharing their wealth of knowledge and critical resources involved in differing stages of the investing process. Hairston's presentation discussed the legal aspects of distilling within a manufacturing framework and that tax-exempt private activity bonds issued through a conduit issuer could be a viable financing option, as well as new market tax credits and other state and local economic development incentives.
At Butler Snow, Tray Hairston focuses his practice on public finance and economic development. Before joining the firm, he served as Counsel and Economic Development Advisor to Mississippi Governor Phil Bryant. He has served as Bond Counsel for various cities and counties throughout Mississippi and the Southeast. Hairston is a Certified Economic Developer (CEcD) through the International Economic Development Council.
Tray Hairston has been recognized by The Bond Buyer as a Rising Star. The publication's Rising Stars program honors 28 municipal finance professionals under the age of 40 throughout the country whose leadership, collaborative spirit and innovative work with issuers has positively impacted their communities. He has also been recognized by Mid-South Super Lawyers® for Government Finance (2016-2021), Mississippi College School of Law as Young Lawyer of the Year (2013) and Mississippi Business Journal as one of its Top 40 under 40 (2012-2013). He is a member of the National Association of Bond Lawyers, International Economic Development Council, Southern Economic Development Council, Mississippi Economic Development Council, and Mississippi Bar Association. He received his undergraduate degree from Tougaloo College, his MBA from Belhaven College, and his Juris Doctor from the Mississippi College School of Law.